Our March meeting was PACKED with 38 attendees! Thanks to all who came, and welcome to all new members! We are excited to have you!
Upcoming events:
-Mid-Atlantic Mod - Thurs. - Sun. April 3-6 (if you are going, please be ready to share at the April meeting, and post pictures on Instagram!)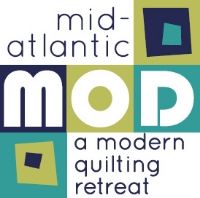 -April Meeting - Tues. April 8, 7 to 9:30, Pennington Quilt Works (see bottom of post)
News:
-Please continue to do the following: RSVP for meetings on BigTent, chat with each other on BigTent (we have some good conversations going!), sign up for the official MQG site if not signed up already, and bring quilter's cotton and any gently used but unneeded supplies for our meeting giveaway table!
-We are looking forward to hosting Jacquie Gering for a lecture and workshop in late August. We will let you know when the dates and workshop are finalized!
-The new Michael Miller MQG Fabric Challenge starts now and ends in June. See this page for all the info. Fabric was mailed out to guild leaders TODAY, I will have it to you at the April meeting! We will each be receiving six fat eighths of the fabric shown here.
-Next month, I will be giving out a paper copy of basic member contact info (name, town, email, website/company, and blog). If you have not already told me you do not want to be on the list, please email the account ASAP (centraljerseymqg@gmail.com). The purpose of this list is for members to be able to contact each other but not for mass emails of any kind.
- Quilt Fest was great! Check out our Flickr group for pictures and feel free to post your own on there. Thanks to everyone who contributed to our bright, modern exhibit and who helped out with the putting up/taking down of quilts! I hope everyone will consider submitting quilts if we receive a chance like that again!
Several members in front of our newly-completed guild banner!
-Our next guild bee(s?) will start in June. Start to think about if you'd like to participate! See the top tab on the blog for more info about our first bee. We have 10 people interested so far and we need at least 12 for one bee.
-Charity update –- we are starting small and newborn quilts for the Center for Great Expectations in Somerset, NJ. Bring in child-friendly quilt-shop quality fabric and orphan blocks in April, too, please! Thank you SO MUCH for those who brought fabric in March - we have two HUGE bags already! We will decide on our next step in April.
-QuiltCon – Austin, TX, Feb 2014 - tickets go on sale in May (see here for important dates). Call for hotel rooms though they are going fast! It's going to be great fun. More info as it gets closer.
Short Presentation
- Meg Cox showed us how to navigate the Quilt Index and explained the Quilt Alliance Contest ("Inspired By..."). Our challenge for May will be an entry to the contest. You do not have to use a quilt from the Index as your inspiration - it can be any quilt! Thanks, Meg, for an informative and lively presentation!
-Discussion – We discussed the Pantone Color of the Year, Radiant Orchid (the color of the orchid above, not the background). Members looked at fabric and quilts using the color. Our challenge for April is to make a swap item (see bottom of post for ideas) using Radiant Orchid or some kind of purple. Let's bring the spring into our members' homes. :)
Here's a link to the Radiant Orchid Challenge, which closes Friday (see quilts, mini quilts, and quilt tops!).
- Challenge –
try free motion quilting or
free motion a new design. Many of our members took the plunge! Here are just a few pictures:
-Show and Tell
Thank you to Carol Esch for pictures and to Kathleen Stanish for the minutes.
---------------------------------------------------------------------------------------
7-9:30, Pennington Quilt Works
April demo: cutting from yardage for a swap (Lori S.), accurate cutting
April discussion: Low volume fabrics – what they are and how they are used. Bring in your favorites and any quilts you've used them so we can see! We will also officially sign up for a low volume swap in May.
April challenge: Make a swap item using Radiant Orchid, the color of the year, somewhere in your swap item (or purple). You can make a mug rug, mini quilt, table runner, pouch, coasters, anything!